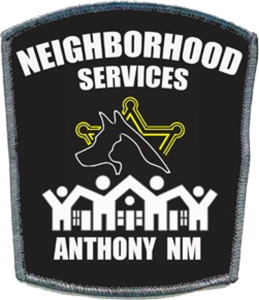 820 HWY 478
Anthony, NM 88021
Office: (575) 882-2983
Fax: (575) 882-6191
*For after hours, non-emergencies please call Central Dispatch at 575 526-0795 #6  * For Emergencies Dial 911*
Facebook: www.facebook.com/anmanimalcontrol/
Neighborhood Services Department provides city services of Animal Control, Codes Enforcement, and Community Development Services. The Department's purpose and objectives are to promote and implement services for city residents to encourage and maintain city neighborhood standards and promote clean and well-kept neighborhood environments, by providing partnership and communication between city residents and the City Government. 
Animal Control Services 
 The City of Anthony's Animal Control Department was established in 2013 to serve animal control issues within the city limits. Any vicious animals, neglected animals, dogs running at large, or any other problems can be reported to the Neighborhood Services Officer. 
Neighborhood Services Department will answer calls for both emergency animal services and non-emergency services. 
Types of incidents to report for non-emergency Animal Control Service:
Stray dog/cat
Injured dog/cat
Aggressive dogs
Dogs attacking livestock or dogs fighting
Dog bites to humans
Care and maintenance concerns
Possible overpopulation of dogs/cats on the property
Types of incidents to report for Emergency Animal Control Service:
(Please Call 911) 
Injured animal
dogs attacking livestock or
bites to humans 
Contact numbers for Animal Control Service:
For low-cost Spay or Neuter surgery: Call SNAP at 575-524-9265 or a local vet.
For microchipping: Call the Animal Services Center at 575-382-0018 or a local vet.
For missing pets: Call the Animal Services Center of the Mesilla Valley, (575) 382-0018.
A copy of the Animal Control Ordinance (Ordinance No.2013-03) is available at the following link 
The neighborhood Services Officer also performs a variety of technical duties in support of the City's municipal code which includes but is not limited to
Monitoring and enforcing a variety of applicable ordinances, codes, and regulations related to zoning, land use, nuisance housing, building codes, health and safety, graffiti, water waste, and other matters of public concerns
Serves as a resource and provides information on city regulations to property owners, residents, businesses, the general public, and other city departments and other divisions.
Prepare evidence in support of legal actions taken by the City, appear in court as necessary, and testify at hearings and in court proceedings as required.
Maintain accurate documentation and case files on all investigations, inspections, enforcement actions, and other job-related activities including accurate and detailed information regarding code enforcement activity to substantiate violations, draw diagrams and illustrations and take photographs. Prepare a variety of written reports, memos, and correspondence related to enforcement activities. Patrol assigned areas in a city vehicle to identify and evaluate problem areas and/or ordinance violations, determine proper methods to resolve violations. Patrol the City, record locations of graffiti, and inform the City's public works of the need for vandalism clean-up.
Community Development
 In 2010 the city passed Ordinance 2010-018 'Land Use and Zone Ordinance' power to regulate planning and zoning, to ensure safety, preserve health, promote prosperity and improve the morals, order, comfort, and convenience of the residents of the City of Anthony. Together with the Planning and Zoning Commission, the Neighborhood Services Department's goal is to maintain and promote the quality of life for all city residents. A copy of the Land Use Ordinance and Subdivision Ordinance as well as other forms are available in the 'resources' section. 
Subdivision/Zoning/Variance Request Development 
For all subdivision, zoning, variance, and all other business or residential requests, P&Z and BOT approval are required, and a development application must be submitted along with all paperwork of proposed changes to land, business, residential, or zoning, etc., etc. Development Application is available in the 'resources' section.
Business Registrations and Renewals
New businesses must submit a business registration fee before engaging in business. An application must be completed for each business and there is a $40.00 fee for each business location. The fee is for the calendar year (January 1-December 31) and is not prorated. Renewing business fees are due by January 31st, if paid after this date; a delinquent penalty of $20.00 per month will be incurred. Business certificates are not issued until all fees due are paid. To cancel this business or change ownership, please contact the City Clerk. Business Registration Application and renewal are available in the 'resources' section.
Mobile Home Permits
Setback inspection before the manufactured home is brought in. No junk cars or cars without current tags will be allowed to be stored on the lot. NO EXCEPTIONS! The use of tires roof tops will not be allowed. No accumulation of trash or junk on-premises. All fence and rock walls require a city permit. No non-domestic animals are allowed in sub-division. No basketball courts on street. No business is allowed in the residential area. Violators will be fined. A mobile home permit is available in the 'resources' section.
Garage Sale/ Yard Sales
There is a $5 permit fee required for each application. You can apply from 1 to 3 consecutive days per application. No rainchecks or refunds.
All city residents are allowed up to Five Garage/Yard sales per year at a single address. One Permit allows the resident to conduct Garage/Yard sales for Friday, Saturday, and Sunday consecutively. Garage/Yard sales must comply with Ordinance 2010-016 Article 2/Section III.3.4. It is the resident's responsibility to read and understand the city ordinance. Garage/Yard Sale permit application and a copy of Ordinance 2010-016 are available in the 'resources' section.